Rio de Janeiro Weather & Climate
Insider's Tips on the Best Time to Visit
Rio de Janeiro weather and climate is considered tropical, as the city is located almost directly on the Tropic of Capricorn, which is about 23° south of the terrestrial Equator.


It has a southern hemisphere tropical climate, which experiences the summer season from December to March and the winter season from June to September.
At the height of summer, it can get very hot and humid, often averaging during the day between 90°F - 100°F (32°C - 38°C). It is not uncommon for daytime temperatures to exceed 100°F. In the summer, it will cool down slightly during the day due to frequent and often heavy rains. Summer is also the rainy season in Rio de Janeiro, Brazil. In the evenings, temperatures fall to about 75°F (24°C). Along Copacabana and Ipanema Beaches the constant sea breezes help to cool things off, especially at night.
The winter climate is much less humid than in the summer and is considered to be the dry season. Total rainfall lessens during the winter months, and rain showers are less frequent and tend to be lighter. Winter temperatures average 78°F (26°) during the day and 65°F (18°C) at night.


When is the best time to visit?
You should head down and enjoy the hot Rio de Janeiro weather during the summer months if your plan is to party and scope out the opposite sex on the beach. Also, if you want to experience New Year's Eve (Reveillon) or Carnival (Carnaval), you have to visit during the summer and just deal with the heat and humidity. It can take awhile for some people from northern climates to acclimate to the tropical climate. Summer is the time when the beaches are packed and the atmosphere is constantly festive from mid December to the end of Carnival.
If you prefer a bit cooler weather and want to skip the gigantic New Year's celebration and the crazy Carnival, then the weather in the winter months may be the better bet. Winter is also considered to be the low season, so rates for hotels, hostels, and apartment rentals are lower. Beaches are less crowded, but the water is still quite warm. Hiking and other outdoor activities can be more enjoyable without the oppressive heat. You also stand a better chance of having less rainy days and clear views from atop Sugarloaf and Christ the Redeemer. The restaurant and nightclub atmosphere may be a bit less festive than in the summer, but Rio is a city of several million people, so there's always a party going on somewhere.
See below the current weather forecast for Rio de Janeiro, live Satellite weather images, and today's temperature and rainfall estimates for Brazil and other parts of South America.



View Brazil in a larger map


Rio de Janeiro, Brazil "Google Earth" Satellite Image
(zoom in for close up views)

View Rio de Janeiro Google Earth in a larger map


Live Rio de Janeiro
Weather Satellite Images Image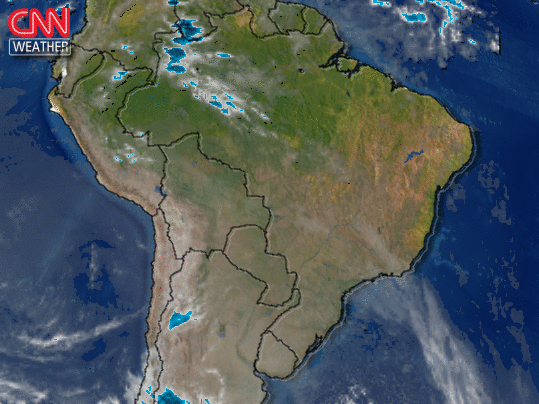 Go to Top of Page

Return to Travel Info page from Rio de Janeiro Weather page